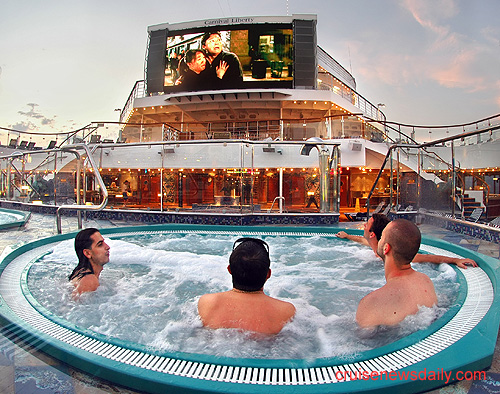 I just booked another cruise. Yay for me!!! AND...I actually have found someone to go with me, and I didn't even have to twist his arm into it. I think the idea of being someplace tropical with a foo-foo drink in hand sounded appealing to him.
This will be one heck of an
outing
!
But who is going with me is nonessential. The
most
important thing is that I am actually getting to go on my trip early next year, and I don't have to pay for double occupancy to do it. Right about the time everyone else in KC will be freezing their collective asses off. Yay!
The ship I will be on will be the Carnival Liberty, boasting an theater out in the pool area, so I can sit in this hot tub, and watch "Titanic". It will be an 8 day Eastern Caribbean jaunt where the temps are at least 80 degrees if not more. Someome else will be making my bed, cooking my meals, making my room tidy, bringing me room service, kissing my ass, and then leaving a fun towel animal on my bed to welcome me after a long night of wandering the ship.
No work! No Bosshole!! I won't even tell anyone I am a nurse. I will just tell people I work as a people greeter at Walmart.