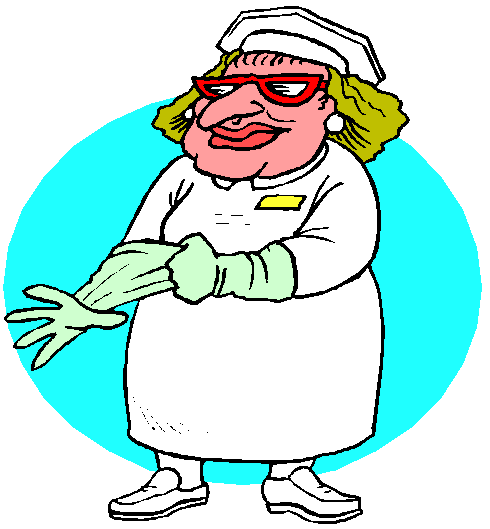 I don't work in the ER, but I have friends that do. After hearing about some of the crap they have to put up with, I am eternally grateful I didn't take a job down there fresh out of school. It takes a special breed of nurse to stomach working there. While there are some really, really good nurses, there are also the assholes who have attitude over most other nurses because they have the "I save lives" complex.
Hey...I save lives, too. So, go blow yourselves!
But I digress...
I never cease to be amazed at some of the stories I hear coming from that department. Oh sure, you get the obligatory "seek and find" cases where the staff gets to delve into orifices in search of things deliberately put there, only to be told, "I was walking around naked, and slipped and fell. That's how that jar of grape jelly ended up in my ass."
Other asshat visits to the ER:
- a hang nail with no complaints of pain
- Gum stuck in long blond (bleached) hair
- a blister on the right toe
- child has lice
- female cut a fingernail to short and it hurt
- a paternity test, as he was due in court IN SIX HOURS!!
- totally well, but needing a work excuse for a sick day sometime last week
- mosquito bite
- A man with a ring on his penis- which was easily removed with lubricant
- "My girlfriend said her Doctor told her she had herpes. I wanna see if I got Herpes, too."
- came in wanting to have his blackheads removed
- wanted his ears cleaned
- Being drunk and requesting detox until social security check arrives
- "to have my wife checked out to see of she has been sleeping around"
- school vaccinations
- "When I get cold, my nipples get hard"
- chapped lips
- Daughter swallowed her gum
- Wanting Viagra
Again, I digress...
I was reading today about some blurb that proclaimed,
"U.S. emergency rooms are understaffed, overwhelmed and could not cope with a crisis, whether a pandemic, attack or natural disaster, according to three reports released on Wednesday."
Well, no shit, Sherlock. Maybe if people came to the ER with actual emergencies, emergency rooms across the nation wouldn't be so clogged down. You hear about hospitals on diversion because they are too full to take anymore patients. Laypeople are just shocked when they read about this. SHOCKED! Lots of folks out there think that working in the ER is a lot like the tv show. Some of my friends get pissed when people compare the tv show to real life.
Let me tell you, not once have I ever heard of a helicoptor dropping in through the ceiling and taking out the biggest asshole doctor to wear a white coat.
Again, I digress...
Maybe if regulations were implimented that would prevent ER abuses, things might improve. Things that prevent those assclowns who come in at 1am wanting a pregnancy test (because they are too cheap to go out and actually purchase one at the 24-hour Walmart). Lots of people use the ER as someone might go visit their doctor's office. There's a reason some patients are referred to as "frequent flyers". Sometimes, it's not a matter of having insurance.
It's a matter of people being stupid...and the world is full of stupid people.